You can find participants to take your study through Phonic Recruit.
What Is Recruit?
Finding study participants for audio and video studies can be hard, so you can purchase survey responses directly within the Phonic platform. Recruit is a panel marketplace with direct access to 300 million B2C and B2B participants.
To get started with Recruit, click the "Buy Responses" button in the top right corner of the Survey Dashboard.

Step 1: Create A Campaign
In Recruit, click on "+ New Campaign" in the top right corner. Each campaign that you create can have multiple audiences, and you can also run multiple campaigns for the same survey. Enter a name for your campaign in the pop-up window and click "Let's Recruit!".

Step 2: Choose Your Audience Sample Size
In the top left corner of the campaign page there is a tile labelled "Audience". Here you can indicate your sample size (set to 30 participants by default) and re-label the audience by mousing over and clicking the pencil. Additional audiences can be added by clicking the "+" button.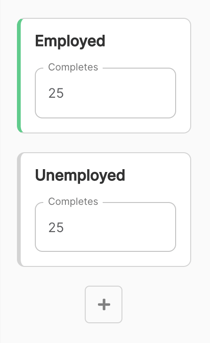 Step 3: Select Your Audience Demographics
Separate demographics can be selected for each audience that you create. For example, one audience can be employed, while another audience in the same campaign can be unemployed. To select the desired demographics for an audience, click on the audience tile. Basic demographics such as age and gender are selected by default and will appear in the center panel. Simply select the age range and gender(s) that you would like to include.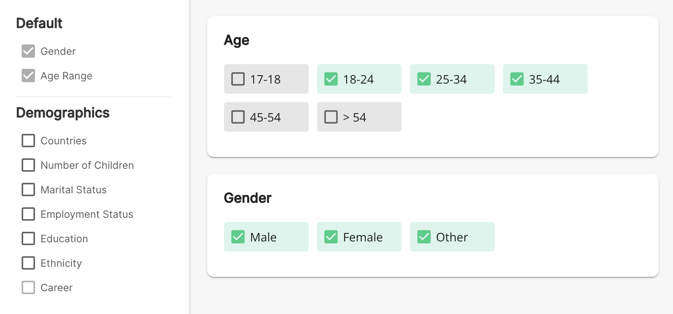 Additional demographics can be added using the checklist to the left. Each demographic will be added to the center panel, where you can specify your criteria.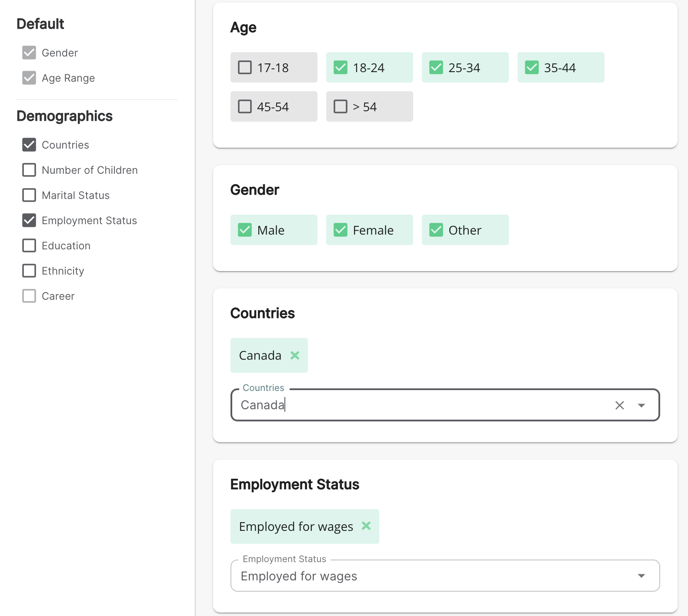 After you set demographics for one audience, you can click on the other audience(s) in your campaign and set different demographics accordingly.
Step 4: Choose Your Survey
Use the dropdown menu under "Survey" to select which survey you would like to run in your campaign. Once your survey is selected, a summary of question types and cost for each audience will appear. When you are ready to run the campaign, click "Proceed" and enter your payment details in the pop-up window.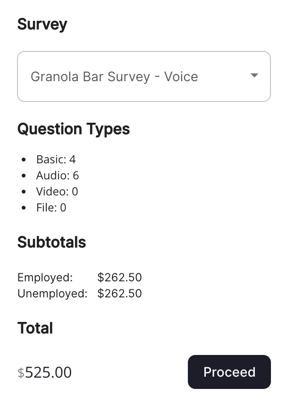 If you're not ready to proceed with payment just yet, the campaign will appear as a draft.

At any time you can click "Proceed" to pay for the sample and begin recruitment. Recruitment typically takes 24-72 hours.