Collecting & Downloading Responses
How Do I Enable Email Notifications?
You can be notified when a new respondent has completed your survey.
Sometimes it's useful to be updated when someone finishes your survey, for example when a user completes an onboarding flow. You can receive an email on this event using email notifications. To enable notifications, navigate to the survey of your choice and click "Options" and then select "Email Notifications".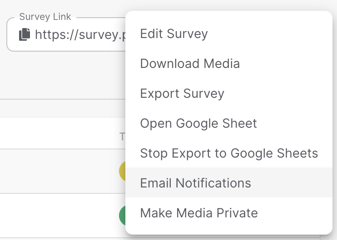 A pop-up will appear. Click on the "Add Notifications" button and select when the notification should be triggers and to whom it should be sent. Click "Save" and you're all set!