How Do I Add a Consent Page to my Survey?
You can add a PDF of your consent page to your survey in survey settings.
Survey consent forms let you collect explicit, opt-in consent from respondents. This can be particularly important with voice and video studies, or when complying with regulations like GDPR.
To add a consent page to a survey, click on the "Settings" tab in the survey builder. Under Consent Page, click "Upload PDF".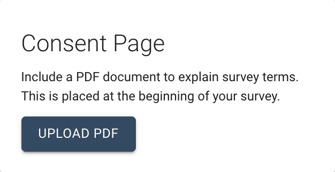 Choose the PDF file that you would like to upload. Once your file is uploaded, "Consent PDF" will appear.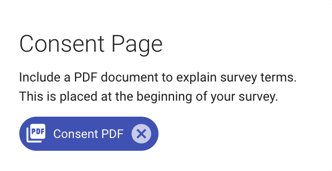 When participants begin your survey, the consent page will appear in a PDF viewer. The PDF viewer will allow them to download or print the consent page for for their records.