Phonic is fully compatible with screen readers and all of our question types are WCAG 2.1 A/AA compliant. Here we'll discuss a few other considerations when building an accessible survey.
Choose an Accessible Theme
Phonic's light and dark themes are fully accessible and WCAG 2.1 A/AA compliant. If you do not want to use one of our classic themes, carefully consider the colour scheme and font that you choose. Avoid red-green colour combinations and fonts that are difficult to read, and use contrasting font and background colours.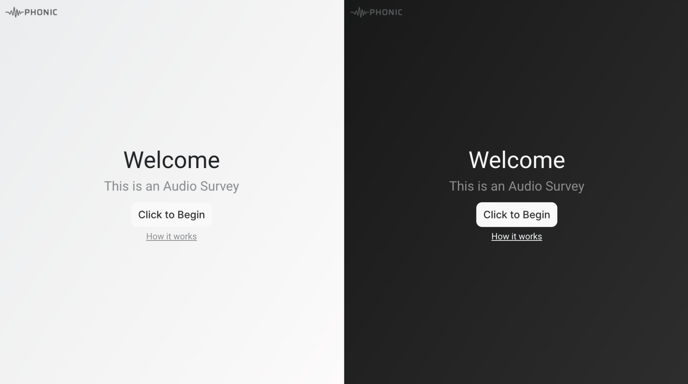 Provide Participants with Clear Survey Instructions
Adding additional instructions to the beginning of a survey provides your participants with clear guidelines and expectations. This ensures that participants are not caught off guard by certain question types (e.g., video and audio responses) or survey length.
Provide More Information About Each Question
Providing information at the question level also gives participants an understanding of what is expected on a given survey page. For example, it may be helpful to indicate if a question is optional, or if participants need to interact with stimuli or media before submitting a response. Assistive technology such as screen readers are also unable to read the progress bar. Adding question numbers can help individuals who are visually impaired know how far along they are in a survey. Responses for audio, video, screen record, and file upload question types require a media upload, which are denoted by a progress bar within the "Next" button. Individuals who are visually impaired do not have access to this information, so it is important to inform participants that media takes time to upload, potentially delaying when the next question will appear on the screen.
Adding Subtitles or Using Described Video for Video Stimuli
If your survey requires video stimuli ensure that the appropriate measures are taken to make videos accessible. Adding subtitles can assist individuals with hearing impairments, while adding videos with described video can assist individuals with visual impairments.
Add Audio Prompts in Addition to Text
In addition to presenting questions through text, an audio prompt can be added. Providing participants with multiple modalities provides them with a choice of how they interact with your survey, and ensures that it is accessible to as many individuals as possible.
Avoid Timed Responses
In some cases, you may want to add a maximum or minimum response time to audio and video questions. Individuals with visual impairments who are using screen readers may have difficulty understanding when the timer starts and ends, as the screen reader will not provide a count down.